Dear Bookers and Programmers,
I'm excited to announce we're releasing the terrific documentary
Creating a Character: The Moni Yakim Legacy
on June 19 in Virtual Cinema. Some of the greatest actors in recent years discuss how they learned their craft in this unique look at the legendary acting teacher. Check out the trailer below and let me know if you'd like a screening link!
Marc Mauceri
917-584-8816 | marcm@firstrunfeatures.com
Opens Friday, June 19
What do Jessica Chastain, Viola Davis, Patti LuPone and Adam Driver have in common? They are but a few of the extraordinary actors who have studied under the renowned acting teacher Moni Yakim at Juilliard, America's greatest performing arts school.



Creating a Character: The Moni Yakim Legacy

takes us inside the drama classes where Moni and his wife Mina pour their love and passion into preparing the next generation of actors for the spotlight. Insightful interviews with luminaries including Laura Linney, Anthony Mackie and Kevin Kline provide the context in the creation of this unique and inspiring portrait of the master teacher - the sole remaining founder of Julliard's legendary Drama Division.
($10 ticket; VHX platform; 118 min.)
"One of the more insightful films about acting in some time, an observational tribute to acting teacher Moni Yakim. It's almost like auditing a class."

- Kent Turner, Film-Forward
"A love letter to a teacher who shaped the futures of so many wonderful actors, and who is an incredible performer in his own right."

- Lorry Kikta, Film Threat
"Engaging...fascinating."

- Caroline Madden, Screen Queens
Opens Friday, June 12
From the director of the landmark documentary


For
the Bible
Tells Me So

comes a new film that explores the intersection of religion, sexual orientation and gender identity in present day America.
($10 ticket; VHX platform; 91 min)
Winner of Audience Awards


at Atlanta, Seattle, Ft. Lauderdale,
Rochester, Phoenix & Warsaw Film Festivals

"A vital, authentic follow-up to

For the Bible Tells Me So.

Heartbreaking - and inspirational."

-The Advocate



Watch the Trailer

Opens Friday, May 22
In 1961, JFK gave young Americans the opportunity to serve their country in a new way by forming the Peace Corps. Narrated by Annette Bening,

A Towering Task

explores the story of the Corps - taking viewers on a journey of what it means to be a global citizen.
($10 ticket; VHX platform; 107 min.)
More Films Available for Virtual Cinema Bookings
City Dreamers
Now Available!
Joseph Hillel's new documentary explores how four trailblazing architects – all female – have helped transform the city of today and tomorrow.

Phyllis Lambert, Blanche Lemco van Ginkel, Cornelia Hahn Oberlander, Denise Scott Brown have collaborated with some of the leading figures in architecture, from Le Corbusier to Louis Kahn and Mies van der Rohe, while finding their own voices in the male-dominated world of architecture.



"An inspiring film...

a love-letter to the field of architecture itself."




-In The Seats
You Go To My Head
Now
Available!
In a desolate stretch of the Sahara, a mysterious car accident leaves a   young woman lost and alone. Jake, a reclusive architect, finds her and drives her to the nearest doctor, to discover that she's suffering from amnesia. Intoxicated by the woman's beauty, Jake claims to be her husband and takes her to his remote desert home to recuperate.



"CRITIC'S PICK! A mysteriously elusive romance. Sensual cinematography. Teasingly luscious."

-The New York Times



"Every frame of this psychological thriller proves visually stunning to behold."

-The Hollywood Reporter

Sunken Roads: Three Generations After D-Day
Don McCarthy was 20 years old on D-Day, when his infantry division landed on Omaha Beach. Don and other D-Day veterans will someday soon have passed into memory and legend. This realization inspires filmmaker Charlotte Juergens to join Don and seven other D-day vets on a journey to France - a commemorative pilgrimage for the 70th anniversary of the invasion.
In capturing their stories,

Sunken Roads

offers a new, intergenerational perspective on D-Day, presenting the memories of 90-year-old combat veterans through the eyes of a 20-year-old woman.
Scheduled to open August 14 in New York City!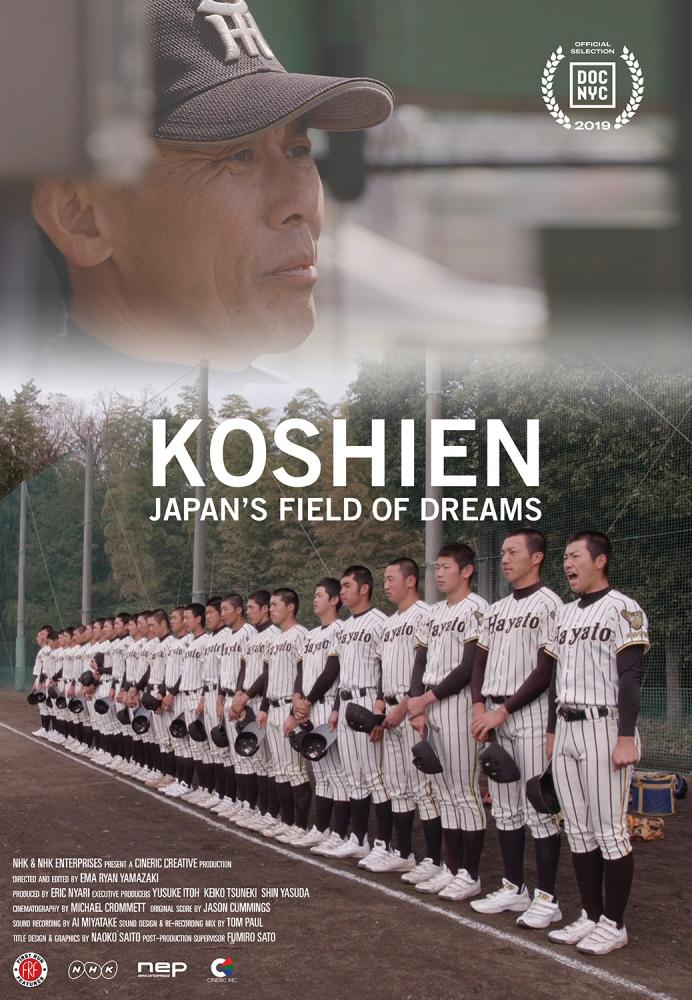 Koshien: Japan's Field of Dreams
Baseball is life for the die-hard competitors in the 100th annual Koshien, Japan's wildly popular national high school baseball championship. But for Coach Mizutani and his players, cleaning the grounds and greeting their guests are equally important as honing their baseball skills. In this dramatic and intimate journey to the heart of the Japanese national character, will those acts add up to victory or prove a relic of the past?
Ema Ryan Yamazaki's previous film was

Monkey Business: the Adventures of Curious George's Creators

.



Opening Fall 2020!
For screening links and more information please contact Marc Mauceri

917-584-8816 |  marcm@firstrunfeatures.com